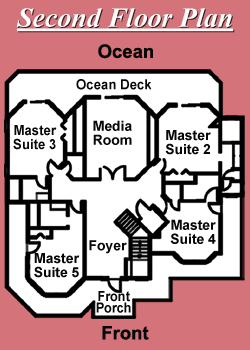 The Second Floor of Bella Donna is the main bedroom level of the house. It contains Master Suite 2, Master Suite 3, Master Suite 4, and Master Suite 5. This level also has the Media Room and is the main entry level for the house via the Foyer. There is Elevator access to the upper and lower floors as well as a Power Room in the Foyer.
Each bedroom suite has its own private bathroom with custom built tile shower surrounds. Each room also has its own TV, Deck access, and Ceiling fan.
The Media Room is the place to watch movies and major sporting events and any thing that just has to be seen on "the Big Screen". This room has a 100" front projected wide screen. The projector is a top of the line Mitsubishi 1080p High Definition DLP projector with full digital signal path from either the Blu-Ray DVD player or the HD DirecTV Digital Cable Box. The 7.1 surround system delivers 100 watts of power to each of 8 speakers around the room, truly enveloping you in the soundscape. Stadium seating gives everyone a great view of the screen.