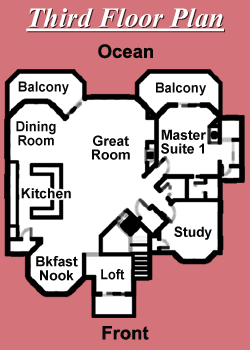 The Third Floor is truly the showpiece of Bella Donna del Sole. An open plan creates an airy and bright atmosphere in the Great Room. Off the Great Room is Master Suite 1, the Dining Room, the Kitchen, a Breakfast Nook, the Loft, and the Study.
The Great Room is the gathering place of the home. It includes a Gas Fireplace, High Definition Wide screen TV, Elevator, and Powder Room.
Master Suite 1, off the Great Room, is well appointed. The high ceilings and large windows create a romantic atmosphere that is underscored by the gas Fireplace. A private Balcony off the bedroom has great views of the ocean and beach. The private Bathroom has a beautiful tiled European Shower with multiple Shower Heads.
The Dining Room seats 12 and has great views up and down the beach. There is seating for 10 at the Kitchen Bar and additional seating for 6 in the Breakfast Nook.
This Kitchen is very spacious and open. It features Cherry Cabinets and Granite Countertops. Amenities include a professional Gas Cooktop, dual electric Convection Ovens, a large Refrigerator, Microwave oven, and dual Dishwashers
The Loft area is a cozy, private space for relaxing, reading, or conversation. It has a great view to the west and the sound.
The Study provides a quite respite for those who have to catch up on some office work. It has a large desk and a desktop computer with high-speed internet access.